BDC Update: Blackstone Secured Lending Fund
Following Blackstone Secured Lending's IVQ 2022 results, we're sticking with an aggressive dividend projection for 2023.
February 27, 2023
Quickly Now
Just a brief update following Blackstone Secured Lending Fund's (BXSL) IVQ 2022 results. As we anticipated back in November 2022 - because the higher interest rates math is inescapable - Net Investment Income Per Share (NIIPS) came in strong at $0.90. That's up from $0.80 in the IIIQ 2022 and $0.62 in the IIQ 2022. A 45% increase in just six months...
Holding On
However - and this is where matters get fuzzier for our purposes - management "only" increased the distribution for the IQ 2023 to $0.70/$2.80 annualized. That's a large amount of holdback by BDC standards, especially as BXSL was very clear in its press release and conference call that earnings will be headed several cents per share higher in the first quarter just from getting a full 90 days' benefit of the rates in play at year-end. Then there are the incremental earnings to come throughout the foreseeable future from even more Fed rate increases...
Aiming High
We have projected for months that BXSL will pay out $3.6000 per share in 2023. With the year's NIIPS now likely to be north of $4.00 that dividend expectation seems as reasonable as ever. However, what we're not sure of is how much management will loosen the dividend purse strings later in the year, and in which way. Will there be further increases in the "regular" quarterly dividend level? Or will there be one or more "specials" once the full-year picture is clear? In extreme circumstances, we might not know the total payout number for 2023 till this time NEXT year.
Not A Big Deal
This is mostly a timing issue and a "good quality" problem. What's most important is that BXSL is making money hand over fist and there's even more to come. Plus, to give us additional comfort, the BDC reports having no loans on non-accrual and only a tiny proportion of the loans valued at a material discount. At the moment - at least - BXSL seems in no danger of having those huge earnings partly taken away by non-performing borrowers.  See our commentary in this regard in the BDC Daily News feed of the BDC Reporter.
Same Same
All this to say, we're sticking to our guns for the $3.6000 2023 payout. At the intra-day price of $25.98 - up nearly 3% on the day - the pro-forma yield is 13.9%. (The BDC is trading right at book value). If we only use the current annualized dividend of $2.80, the yield is 10.8%. Both are good but we prefer the former and believe it's a sensible assessment.
Valuation
💡
The Expected Return Table shows BXSL generating a total return of 111% over the next 5 years or 22.2% per annum. The Target Price is $38.40, just slightly above a price peak BXSL reached in 2021 shortly after coming public, but a 48% price gain away. Remember we have assumed the annual payout will drop back to $3.2000 from 2024 through 2027. Using the latest net book value per share, this implies a Return On Equity (ROE) of 12.3%, which does not seem fanciful over a longer period.
Under-Appreciated
Despite three recent dividend increases; an almost spotless credit record; a famous asset manager at the helm and a new much-admired co-CEO in place, BXSL is not getting the love and admiration one might have expected. This must be frustrating for Blackstone and begs all sorts of questions as to why this is the case. However, if you're convinced "the market" has got BXSL wrong - and the BDC Best Ideas assumptions are right - this offers an excellent investment opportunity in the upper middle market segment. For our part, we already have BXSL in our model portfolio and are pleased with the progress made in what are still the early days.
---
November 14, 2022
Very, Very Good
Blackstone Secured Lending Fund (BXSL) has announced IIIQ 2022 results and they are "spectacular" - to quote Seinfeld. This was just discussed in the BDC Reporter. We now know that 2022's total dividend payout adds up to $2.8400, way exceeding 2021's 2.3300 - a 22% jump. We also have to admit we've been undershooting what BXSL can earn and distribute - a mistake we are now correcting
Promising
Looking ahead, with IIIQ 2022 earnings per share running at $0.90/$3.600, after adjusting for a full quarter of the higher rate level, another record payout year is in store. The analysts are projecting a 2023 EPS of $3.29, but even that seems low. After all, there's the 75 basis point rate increase of a few weeks ago and another 0.50% in December, and even more next year. The portfolio is very full - worrying but also very profit making. Management has not given guidance or even a clear cut dividend strategy, but we're pegging 2023's payout at $3.6000 a share.
Less But More
Of course, what goes up will come down where rates are concerned so we're assuming the payout will drop back to $3.2000 in 2024-2027. That's still well above what we'd budgeted before, and assumes some income lost to credit troubles, even if BXSL has zero non accruals at the moment.
Sensible
All this translates - using the latest NAV Per Share - into an ROE of around 15% for a year, dropping back to 12% or so going forward. If you believe - as we do - that rates are not going back to their sub 1.0% levels and that spreads won't be eroded away by competition any time soon, this seems reasonable. Credit losses, as always, are the wild cards.
Valuation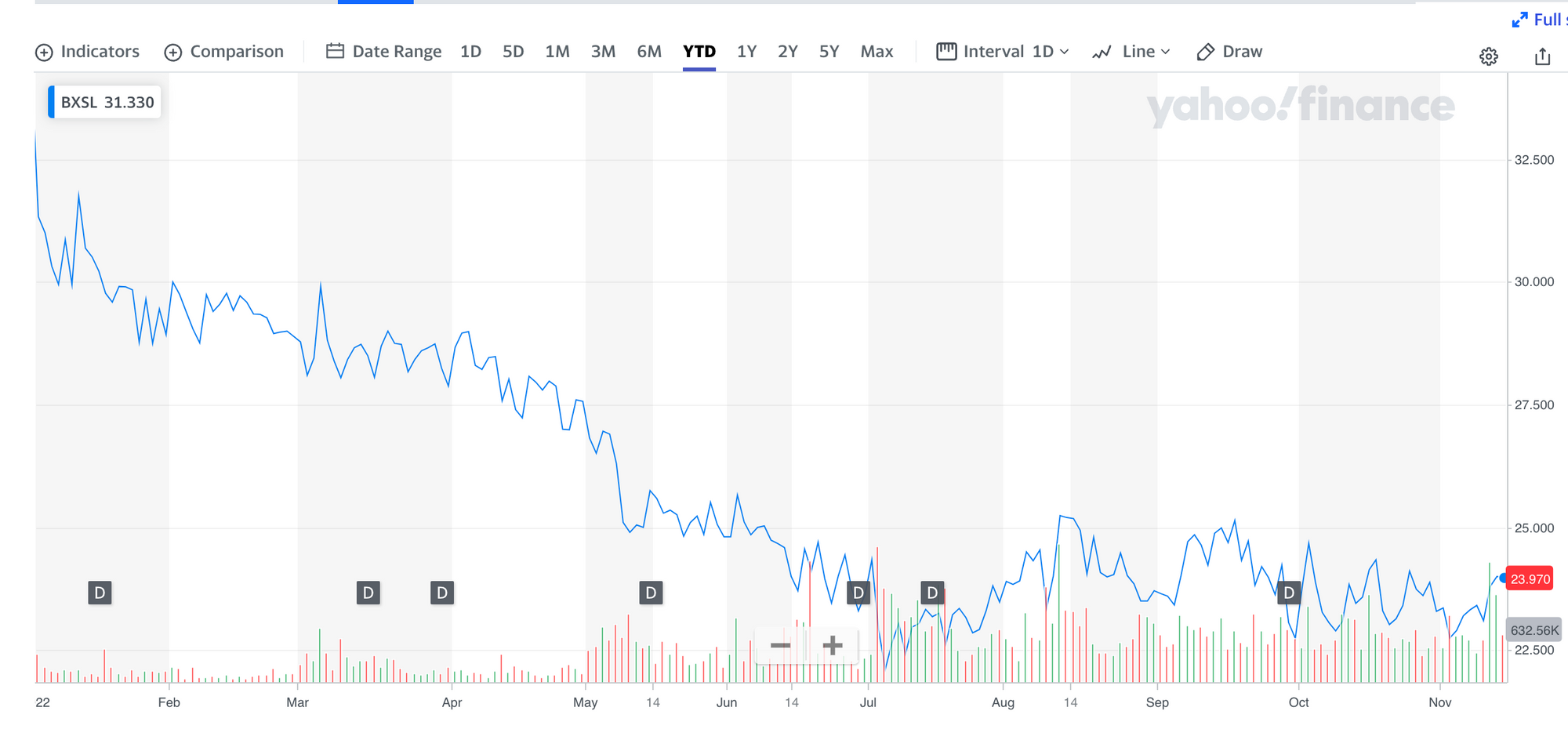 From a valuation standpoint, this is a Goldilocks situation: prospectively distributions are rising while BXSL's stock price has been falling all year (see above) and is valued below book and at a multiple of only 7.3x 2023 EPS and 6.7x that dividend projection we've made. By contrast, our Target Price of $38.40 is based on a 12.0x dividend multiple. That means we're looking for a 60% price upside one of these days and a 5 year Total Return of 128% or 25.7% per annum.
New
This will all be uncharted territory for BXSL, which has mostly traded sub-$30 a share except for 5 weeks early after its IPO. On the other hand, EPS and distributions are headed for more record breaking too. At some point we expect the markets will give the large cap borrower focused BDC to trade at a "normal" multiple. If and when that happens , BXSL will go from being something of a disappointment to its long term shareholders to an outstanding success.
Stuck
Too good to be true ? It's hard to know, but we ran the model assuming only a maintenance of the current $0.60 a quarter/$2.40 a year regular distribution. The bottom line ? The 5 year total return came to 70% and the Target Price to $28.80, only 20% or so above the current level. As pro-forma cases go, good enough for us.
---
September 7, 2022
Not Typical
In a highly unusual move - covered in the BDC Reporter - Blackstone Secured Lending Fund (BXSL) has revised its previously announced IIIQ 2022 distribution, upping the payout from $0.53 to $0.60. The reason - higher rates are generating higher earnings, with a knock on effect on distributions.
Ahead
This is no great surprise to us. We've been beating the drum of likely higher distributions since the beginning of the year. Although the announcement caused us to revise our projection for the 2022 distribution from $2.2000 per share to $2.2300, the rest of our projections through 2026 remains unchanged as we had assumed there would be higher rates.
Coming Up
The most intriguing issue - with 2022 almost done - is whether our 2023 dividend projection for 2023 of $2.8000 is realistic. We think so, especially as the latest analyst consensus for EPS next year - which we just input - is for $2.85, up from $2.84.
Steady
We continue to assume earnings and distributions will drop back when rates flatten and decrease from 2024 on. However, at $2.4800 (2024-2026), we're essentially assuming BXSL will be matching the earnings achieved in the most recent quarter annualized. You could make an argument for a higher distribution, but we are figuring in potential credit losses and possible pressure on portfolio size if asset values drop.
Bottom Line
As we write this - after making this minor adjustment to the 2022 distribution estimate - the total return for BXSL is at 80% over the next 5 years, or 16% per annum. That's a superior, but not top notch return, with the average annual return at 16.7% and with 10 BDCs projected to return over 20% per annum. By the way, BXSL is trading intra-day at $24.01 - up 2.5% on the dividend increase news.
---
August 17, 2022
Same Same
Over at the BDC Reporter, we've just annotated Blackstone Secured Lending Fund's (BXSL) IIQ 2022 earnings conference call transcript and updated its latest metrics in our database and reviewed the 10-Q and the huge investor presentation. Overall, neither the net book value of the BDC or its earnings or portfolio size moved much from the IQ 2022 level. As far we could tell without having done a review of our own, credit  conditions at BXSL remain in very good shape, with no non accruals over 163 companies.
Not For Much Longer
However, management made abundantly clear to expect earnings to increase substantially starting from the IIIQ 2022 and thereafter. The reason (as you might expect): higher interest rates. As is the case with most BDCs, increases in the Fed Funds rate does not automatically and immediately translate into a higher portfolio yield, higher investment income and - ultimately - Net Investment Income. As they say "these things take time" as borrowers only reset their loans to the higher rates after a 1 month or 3 month period (typically the latter as the bias towards higher rates is well understood by everyone).
Golden Harvest
In any case, BXSL will be harvesting much more of the rate increases in this third quarter. That's just the start, though, as the Fed continues to boost that reference rate, and may be doing so well into 2023. Nor does BXSL - or ourselves - expect that what goes up will come down where rates are concerned. The bottom line is that the BDC could see its NIIPS - which reached $0.62 in the IIQ 2022 - could increase by 25% - or even 50%- in the quarters ahead.
Taken Aback
This is something of a shock even to the BDC's management which has to craft a dividend policy at a time when earnings will be increasing erratically and while still being in the process of distributing excess earnings from earlier periods. The result is a re-valuation of what distributions will look like for years to come. Based on three quarters of dividend payments and announcements by BXSL , we're increasing our 2022 payout projection to $3.2000 from $2.7000 previously.
Next Year
More importantly - as most of 2022 is in the rear view mirror - we are guessing that in 2023 NIIPS will be $2.8400 (the current analyst consensus) and $2.8000 will end up with shareholders. From 2024 and through 2026, the annual payout is projected to fall to $2.4800, as rates partly abate. That's the same level as the current earnings but we assume BXSL will face some credit losses,  which might erase any benefit from rates remaining higher than now, but below whatever their peak will be. Benefits are also expected from higher fees (thanks to more repayments down the road) and from reducing the total payouts due to stock repurchases.
Lower Multiple
As we've increased our 5 year dividend projection, we've reduced the terminal multiple used to value the BDC and set the Target Price. We'd been using a high 14.0x multiple reflecting the very high, but very very brief, period after BXSL went public and shot up in price. We recognize now that was - probably - due to a shortage of shares being traded rather than broad based investor enthusiasm. Instead, we're using a more standard 12.0x multiple - same as ARCC - which results in a 2026 Target Price of $29.76.
From Here To There
BXSL closed Wednesday August 17, 2022 at $24.05, but has reached a 52 week/all time peak of $38.32, which - as just mentioned - occurred in the early weeks after going public. At the current price and using the 2023 estimated payout, BXSL's yield is 11.6% (13.3% in mostly completed 2022). The BDC is trading at a slight discount to net book value per share.
Projected Returns
If we take a snapshot of potential long term returns for BXSL at these levels and with these projections, the total return over 5 years is 80%, or 15.9% per annum. 70% of the gain would come from distributions and 30% from price appreciation. The projected return is on the high side compared to the other 42 BDCs we are currently tracking.
Intriguing
Given the BDC's still lackluster popularity (trading at 8.5x projected 2023 EPS and below net book value), this is an interesting investment opportunity in a very large BDC with a very clear cut first lien, big borrower strategy with a famous asset manager. Moreover, trading volume is high ($15mn a day changes hands), making getting in and out easy. Finally, the stock is trading only 9% off its 52 week low. All those existing investors selling out in recent months may be creating an opportunity for a new long term holder to generate an outsized return.