Best Idea: Main Street Capital - Update
In the wake of the publication of Main Street Capital's preliminary IVQ 2022 results, we change the likely dividend payout for 2023.
January 17, 2023
Higher
First came Saratoga Investment (SAR) boasting much higher earnings than anticipated. Now, Main Street Capital (MAIN) has published preliminary results for the IVQ 2022 - discussed in the BDC Reporter - which included a big jump in earnings as well. MAIN's Net Investment Income Per Share (NIIPS) increased 18% over the prior period to $0.98 in the final quarter of the year. What's more, Net Asset Value Per Share - under pressure across the BDC sector in most of 2022 - seems to have sharply increased both this quarter and YTD.
Revised
MAIN's official earnings release is some way away. Still, we're increasing our 2023 dividend projection due to this increasing level of profitability. We're not alone in being more optimistic. The analyst consensus for 2023 NIIPS has jumped from $3.17 to $3.61 in just 90 days - a 14% increase. Even that projection seems low and does not reflect the latest disclosure.
Valuation
💡
We're upping the 2023 MAIN payout from $2.9450 to $3.6000, 90% of what we're guessing the total earnings might be. However, we've not changed the distributions projected from 2024-2027, still at $3.6720 per annum. As a result, the Target Price remains at $55.08.
---
October 12, 2022
All-Around
With BDC prices at close to their lowest levels since the flash recession of March 2020, there are buying opportunities for long-term investors on every corner. With so many 100% plus returns (over a 5-year period) to choose from, we plumped for Main Street Capital (MAIN). The mostly lower middle market-focused BDC did not offer the highest return or the best yield. However, it's not every day that this investor favorite trades at such a low price, and we just couldn't stay away.
Buy, Buy, Buy
We acquired MAIN at a price of $32.37 for our Best Ideas Portfolio on Monday, October 10, 2022. The stock was trading - as the chart below shows - at a level not reached since early 2021, and (31%) below its 52-week high of $47.13. (Admittedly, though, MAIN was still 27% above its net book value per share price).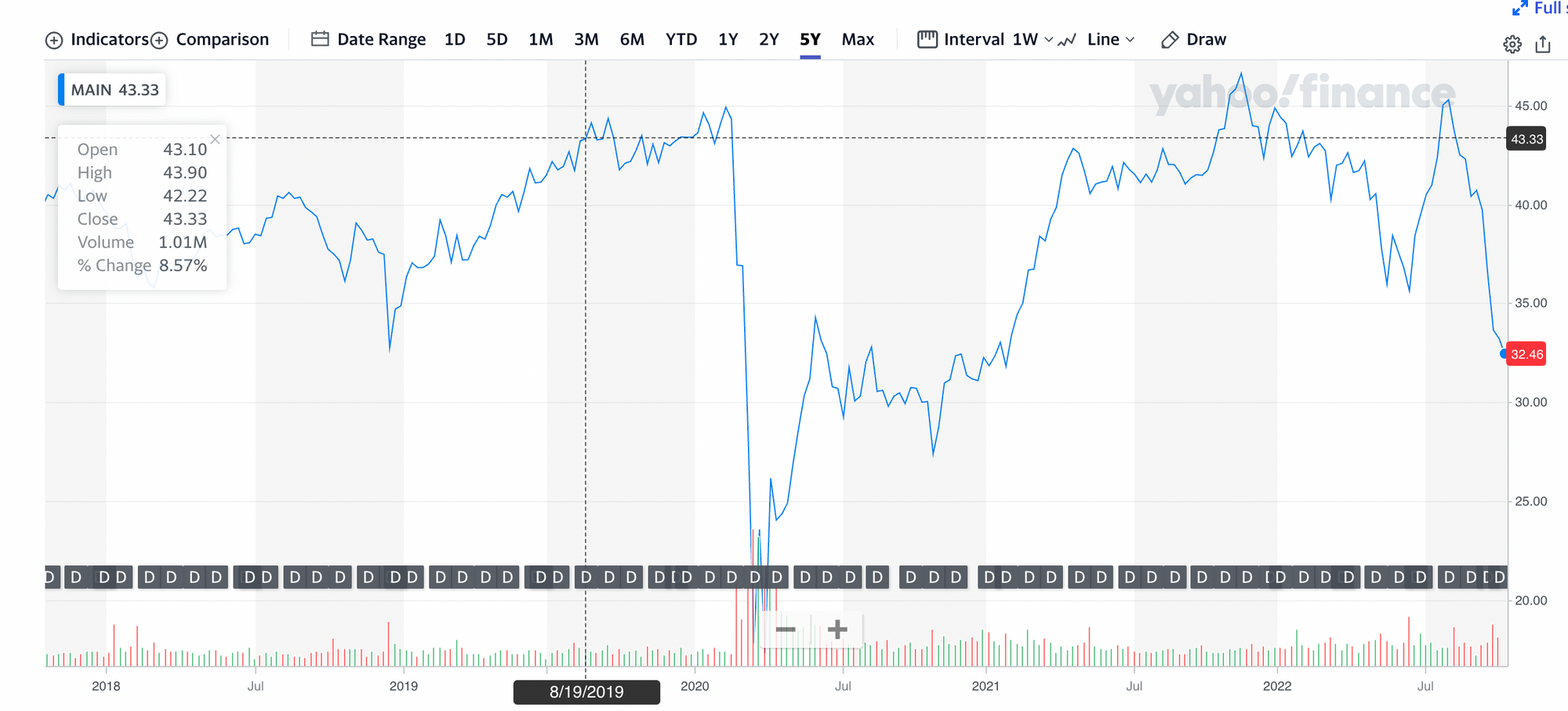 Great Expectations
💡
The Expected Return Table shows a 129% "total return" over 5 years or 25.8% per annum. Based on the 2022 expected total distribution of $2.9450 (most of which is already announced or received), the yield is 9.1%. That's not the double-digit yield available at other BDCs but much better than the 6% or so yields MAIN usually offers due to its well-deserved popularity.
Aggressive
Admittedly, we are projecting that MAIN's total payout will increase to $3.3040 by 2026. We would point, though, to the analyst consensus for EPS of $3.1700 in 2023 already. In any case, MAIN's distributions historically have been derived from a mixture of recurring income and net realized gains. We're expecting that by 2026, the BDC will be back to harvesting some of its many equity stakes in LMM companies as they've done for years.
Aiming High
The Target Price is $58.42 on the sanguine assumption that the market down the road will return to giving MAIN a huge multiple of 17.7x its distribution. That would be a new 52-week high as MAIN has never traded over $47.13. On the other hand, we are budgeting for higher earnings as well.
Reasonable
To offer a more "conservative" case, we assumed EPS would level out at the $3.1720 we have projected for 2024 through 2026. That's in line with the analyst consensus for 2023 and does not assume any contribution from realized gains. We also reduced the terminal multiple to 15.0x, bringing the Target Price to $47.58, in line with prior highs. This causes the "total return" to drop to 95% over 5 years, or 19% per annum. That's not a world-beating return but probably twice or three times what long-term stock returns look like.
Just A Tool
In any case, we only use the Expected Return Table as a rough approximator of what one could earn over a half decade, given there are so many assumptions that go into this projection stew. However, we would regard either result as a clear positive and would be glad we seized the opportunity to invest in one of the oldest LMM BDCs and the one with the biggest portfolio in this segment and the lowest leverage.
Short Term Pain
We have no doubt that both MAIN's upper middle market loan book and its lower middle market loans and equity stakes will take a hit in a recession. The BDC's balance sheet, though, is strong with both SBA and institutionally placed fixed-rate unsecured notes. This will allow MAIN to recover quickly, and without much drama, and get back to making and harvesting equity gains across a wide range of companies by 2026-2027.
Much Improved
Thanks to the recent sharp price drop, MAIN's historical 5-year total return has been only 23%, according to Seeking Alpha. 5 years from now, we could earn 4x-5x as much. For us, this was a no-brainer. As always the only hesitation is that - thanks to investor nervousness - we could yet buy MAIN at a lower price in the months ahead. As noted earlier, though, the BDC is rarely available at this price level, so we grabbed for the brass ring.
💡
Ticker: MAIN. BOUGHT: October 10, 2022. COST: $32.37