Best Idea: Cion Investment Is Under-Valued
Newly public Cion Investment Corporation is under-valued and our Best Idea for the week ended January 28, 2022.
Exception Made
Typically, we don't recommend investments in "new" publicly traded BDCs for some time after listing. We need to become familiar with the business strategy; financial structure and - most of all - credit underwriting record. Also, we learn a great deal from listening to conference calls about management's approach to leveraged lending and attitude towards its investors. The above notwithstanding, we're giving a Best Idea thumbs-up to Cion Investment Corporation (CION) less than 5 months after the BDC was listed on the NYSE. That's because CION has actually been around in a private format since 2012 - longer than many always public BDCs we track. There are plenty of filings to peruse. Moreover, we have had the opportunity to speak with the senior management directly - always an eye-opening occasion. Finally, we've done a great deal of 10-Q/10-K reviewing, as well as poring over the BDC's current portfolio. We'll know a lot more in a year or two, but we know ENOUGH to have a viable opinion right now.
Research Highlights
Over at the BDC Reporter, we've penned multiple articles that feature CION - including a two part "Primer" when the BDC first went public on October 7 and October 12, 2021. There's been subsequent news as well, including IIIQ 2021 results, distribution announcements and a new joint venture launched. Most importantly, the BDC's shareholders have approved what is already in place at (almost) every other BDC: higher leverage, allowing debt to equity to jump from 1:1 to 2:1.
Up. Then Down.
CION's stock price has been on a roller coaster ride since going public at a $13.00 price on October 5, 2021, as this chart shows. CION reached a high of $15.09 on December 8 and has been descending ever since, closing at $12.20 Friday January 28, 2022. That's a (19%) drop from high to the current price. CION trades at a (26%) discount to net book value per share as of September 2021. That's the lowest price to book of any BDC with AUM greater than $1.0bn.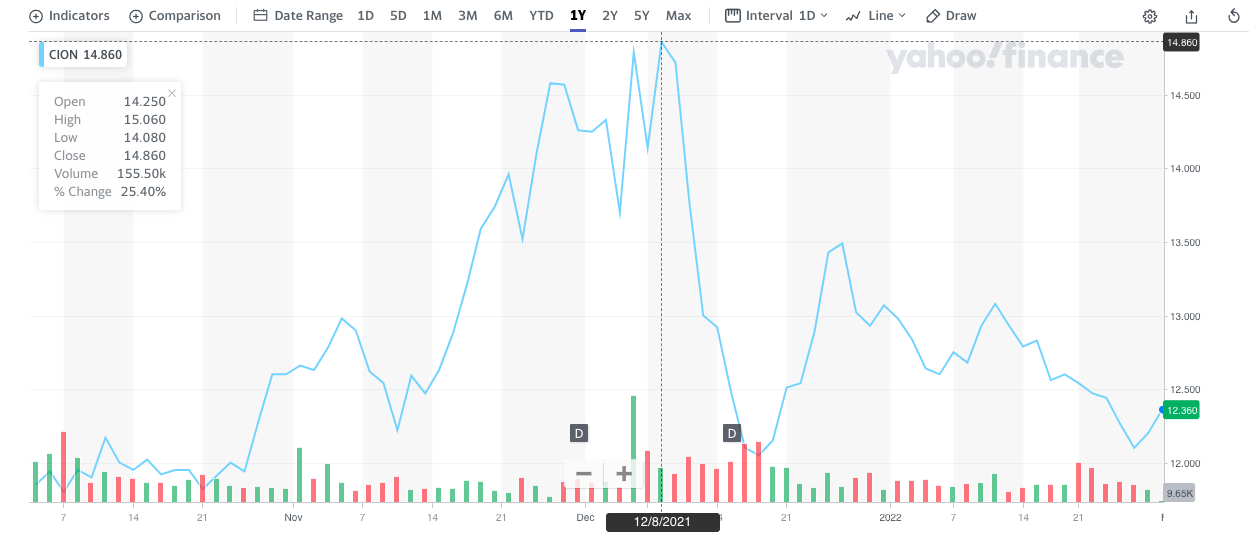 Buy Low ?
CION's depressed price - probably caused by the fact that the markets are worried that large amounts of "restricted" shares will start to trade in the months ahead - is one of the keys to our optimism.  We are using a terminal value of 13.00x the 2026 dividend for our Target Price. Since coming public CION has not traded - even at its height - beyond 12.0x its 2021 distribution level. We expect that as the BDC gets better known - and the concern about overhang dissipates - a higher multiple will be reached in the next 5 years. (By way of comparison, we project 14.0x for Ares Capital).
Modest
While our projection of the ultimate multiple might seem high, we've been more "conservative" where dividend expectations are concerned. The BDC has already announced a quarterly distribution of $0.28 for the IQ 2022 ($1.12 annual) and promised two semi-annual supplementals. We project that will amount to $1.3000 in 2022, rising to $1.4000 in 2026. The analyst consensus is for earnings in 2022 to reach $1.44, after annualizing at $1.40 in its first quarter as a public company. Given that the BDC will be increasing its debt to equity from 0.85x to a target of 1.25x thanks to the recent shareholder nod, that earnings estimate may be low and could go even higher in 2023. (We did some pro-forma calculations and came to a hypothetical EPS of $1.72 for CION and that didn't include any contribution from the just launched joint venture).
Acceptable Losses
The BDC's credit history  is far from pristine. During the worst of the pandemic the percentage of "underperforming" investments  was as high as 31% of the portfolio, based on the BDC's own valuations. There were ($70mn) of net realized losses booked in 2020 as well.  Reassuringly, though,  CION has greatly recovered in recent quarters. Underperforming assets have dropped by more than half and some realized gains have been booked recently.  There's only 1 portfolio company out of 126 non performing and that has a FMV of only $9mn, or just 0.5% of the total. There are very few seriously troubled names in the portfolio to worry about in the short run. Longer term, we would expect some credit losses, but their impact on earnings will be offset by the higher income coming from a larger portfolio.  Given that we're projecting only a modest increase in the dividend over time - despite higher AUM and a lower compensation cost than as a private BDC - the $1.4000 distribution by 2026 seems reasonable.
Plump Distribution
Using our 2021 total distribution projection of $1.3000, CION is already yielding a double digit yield of 10.7% (9.2% just going by the regular distribution) and rising - if we're right - to 11.5% by 2026.
Bottom Lining
If by year 5, the multiple of price to the dividend reaches the 13.0x mentioned above, CION will trade for a Target Price of $18.20, a 49% increase. The total return amounts to 105%,  or 21.1% per annum. 53% of the projected return would come from income and an unusually high 47% in the form of price appreciation.
Lowered Expectations
We also ran the numbers assuming CION just maintains the current $1.12 per annum of regular distributions for the next 5 years, and dropped the price to dividend multiple to 12.0x. As you'd expect, the return is less spectacular, but still totals 56% over 5 years or 11.2% per annum - still an above average performance.
💡
Thanks to the big drop in its stock price since December, CION is under-valued versus what the large cap BDC should be able to achieve in its first few years as a public company. Modest anticipated growth in earnings and a more "normal" valuation at some time down the road could result in a CION investment doubling its value by 2026 according to our model. As a result, CION is our Best Idea as of January 28, 2022. ``````````````````````````````````````````````````````````````````````````````````````