BDC Update: BlackRock Capital Investment
Following BlackRock Capital's IVQ 2022 results, we change absolutely nothing about the BDC's projected dividends and ultimate value.
March 5, 2023
BlackRock Capital Investment's (BKCC) IVQ 2022 results have come and gone and the BDC has met our expectations. Net Investment Income Per Share (NIIPS) increased a "solid" 10%, to reach $0.11 for the quarter and $0.40 for all of 2022, well up on 2021's result of $0.27. For the year, NAV Per Share (NAVPS) decreased by (7%). While that's nothing to write home about that's a slower rate of NAV erosion than over 5 years, which comes to (44%) and (31%) over three years.
Ready To Go
We're positing that BKCC is - finally - poised to benefit from its "turnaround" and re-positioning by its famous manager, as reflected in the higher NIIPS - up 48%. Also, the number of "non-core" investments - which were mostly responsible for the book value decline - is now negligible. Underperforming assets did rise in value this quarter and remain above a "normal" level, but there were no new non-accruals and no notable credit complaints. Leverage at 0.77x debt to equity is one of the lowest in the BDC sector.
At Odds
The BDC announced a IQ 2023 dividend of $0.10, unchanged now for 11 quarters in a row. However,  of late BKCC has gone from needing to subsidize its dividend with fee waivers to not needing to do so. Now earnings comfortably "cover" the payout. Here's the rub: the two analysts who track BKCC project 2023 NIIPS will amount to only $0.39. That seems at variance with the BDC's increasing earnings path and the higher income that will be coming from the Fed's rising rates. We see NIIPS going to $0.48,  or more, this year. That's also reflected in our 2023 through 2027 dividend projection.
Standing Firm
Have we set the 2023 EPS and distribution - let alone future years - too high? We don't think so and expect to see IQ 2023 NIIPS validate our optimism. As a result, we've made no change to our projection. Even if income gets dented from any new bad debts,  a higher portfolio yield and a possible increase in portfolio size should be more than enough to meet our projection.
Gone Nowhere
We rated BKCC a BDC Best Idea back on November 8, 2022, and a glance at the Model Portfolio shows we bought the stock at $3.73. As of Friday, March 3, 2023, BKCC's stock price has not moved much in the intervening period, closing at $3.73 ! There's been a $0.10 per share dividend in the interim, so we're ahead! All joking aside, we don't pretend to know when any BDC stock we buy might "catch fire" on a price basis. Our main focus is on the sustainability of our projected dividend payouts, and it's very early in that regard.
Valuation
💡
The yield - based on our potentially ambitious 2023 payout - is 12.9% and 10.7% going by the actual quarterly dividend annualized. The price to expected earnings is 9.6x, high by BDC standards right now. (For example, market-leader Ares Capital is currently trading at 8.2x its 2023 projected earnings). As before, the Total Return is 110%, or 22% per annum - above the current average in the Expected Model. The BDC is trading below book value and (14%) below its 52-week high.
Q& A
Would we buy BKCC all over again in today's market? Probably not, as there are better investment ideas available. Would we sell our existing position? No, to that as well. True turnarounds take time and management is far from landing their jet on any aircraft carrier. We hang in there.
---
November 8, 2022
Unexpected Pick
We're surprising ourselves by naming BlackRock Capital Investment Corp (BKCC)  - once known as BlackRock-Kelso - a Best Idea. In years past, the small-ish BDC (just over half a billion dollars in portfolio size) with a famous parent name has performed abysmally, both in terms of fundamentals and stock price. Exhibit 1  is the lifetime stock price chart shown below: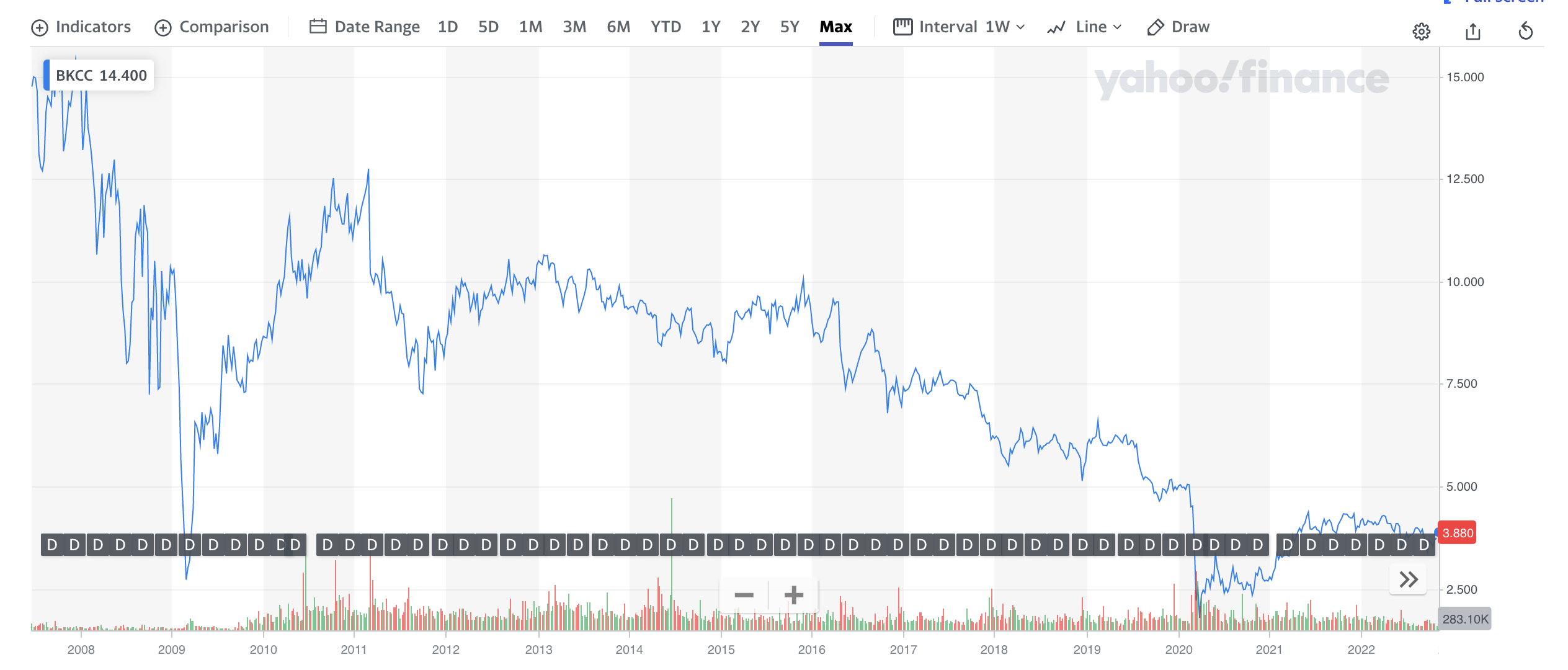 Turn Around
Thankfully, the external manager appears to have successfully achieved a re-positioning and diversification of the portfolio that has greatly de-risked the BDC. 77%  BKCC's investments at fair market value are now in first lien loans and this percentage is growing. This most recent quarter 98% of new investments were first lien. Riskier investments have been greatly scaled back as management itself points out in its most recent conference call:
"Junior capital investments now comprise only 6% of our portfolio, down from 43% at the end of 2019. We also reduced our noncore portfolio to less than 2% of our entire portfolio by the close of the third quarter. We now view the transition away from the legacy portfolio as largely behind us".
We like "granular" portfolios rather than big bets on a few borrowers and BKCC has 111 portfolio companies, which is a great deal for a BDC this size.
Pretty Good
The cherry on the cake is that we undertook a full credit review of BKCC in the last 48 hours and found little to worry about. The biggest worrying position is to what used to be called Gordon Brothers, which BKCC used to own but sold to Callodine Commercial. We won't go into the story here - well covered in the BDC Credit Reporter - but whatever damage was incurred appears to be done. We were also encouraged to see BKCC get out of troubled Juul Labs - that famous vaping company with a thousand regulatory problems.
Envelope Not Pushed
Another positive is that - compared to its peers - BKCC is under leveraged, with a debt to equity of 0.77x at the end of the IIIQ 2022. The BDC has plenty of availability under its Revolver to buy back stock or add new investments, or both. No fixed rate debt comes due till 2025, and we do have BlackRock sitting in the background to support the BDC if need be.
On Its Way
With all that, BKCC is well situated - as the IIIQ 2022 results showed - to take advantage of the higher interest rates that are boosting BDC earnings across the board.  Not so long ago BKCC's EPS did not "cover" its$0.40 annual distribution even after hefty waivers by the manager. Now there are no subsidies and the distribution is covered by recurring earnings.
Up
In fact, we are increasing our expectations for 2023's payout to $0.48, thanks to the boost of rates and a bigger portfolio at ever wider spreads. Our timing may be a little off and we have to admit the analyst consensus is for BKCC to earn only $0.39 in 2023. We think that's too low and the outlook is for higher earnings and distributions, notwithstanding potentially difficult conditions. We maintain the $0.48 annual distribution through 2027.
Returns
This results in a Total Return of 104% over 5 years or 20.8% per annum - see the Expected Return Table. We are assuming a terminal multiple of 11.5x the 2027 dividend, low by BDC standards and reflective of the BDC's poor reputation in recent years.As a result, the Target Price is $5.52, up from $3.79 at the close - a 46% jump on a 20% distribution increase.  Assuming we're right about the new distribution level, the yield will be 12.7%.
Fall Back
We undertook a less rosy scenario, with BKCC's $0.40 annual payout remaining unchanged through 2027. The Total Return drops to 70%, or 14% per annum. Not great by current BDC standards but hardly a devastating disappointment. Contrast that with the historic 5 year "total return" of BKCC, going by Seeking Alpha data: (2%).
Another Way
Wait ! There's more...We continue to believe - and admittedly have been pitching this theory for years - that BlackRock might eventually fold BKCC into BlackRock TCP Capital (TCPC) - its sister BDC. Merging two BDCs under common control into one is hardly an unusual strategy as FS-KKR and Oaktree will attest. TCPC - three times larger in size and with a better track record to point to - is likely to be the surviving entity. Should this happen, BKCC shareholders are likely to be swap their shares for TCPC's but at book value. That would be at $4.56 a share if the merger happened today, an immediate 20% premium. (Of course all these long term prognostications and value ascribing would become moot).
There We Are
So - surprisingly - we find ourselves making BKCC our Best Idea right now. The stock is already trading halfway between its 52 week high and low and (15%) below its net book value. We'll be investing in BKCC for our Best Ideas Portfolio as soon as we publish this article.