BDC Update: Gladstone Capital
Gladstone Capital's IIIQ 2023 dividend announcement supports our earlier upward estimate of the BDC's payout and higher valuation.
July 11, 2023
Working Out
Gladstone Capital (GLAD) has just validated our decision below on April 17, 2023, to increase our dividend expectations. Back then, we increased the projected 2023 payout per share to $0.9700 from $0.9000, and $1.020o in subsequent years. Today, the BDC announced monthly distributions and a special of $0.0825 and $0.0200 respectively, or $0.2675,  for IIIQ 2023. As a result, YTD distributions amount to $0.7325. Add on the latest monthly pace of dividends and 2023 should end up at $0.9800. If GLAD throws in another $0.02"special" - as was the case in this latest quarter - the whole year will add up to a neat $1.0000 per share. Going forward, the just increased monthly dividend of $0.0825 amounts to $0.99000 annually.
Latest
The current analyst projections for GLAD's EPS in FY 2023 and 2024 are $1.05 and $1.07 respectively. This supports the payout projections we've made both in the short term and longer term - give or take a few pennies in either direction.
Valuation
💡
At the close on July 11, 2023, GLAD's stock price was priced at $10.16. The Target Price - which assumes an aggressive but historically accurate 16.0x multiple - remains $16.32. The 2023 yield is 9.5%, based on our projection for the year of $0.9700 per share, but could be slightly higher when the fourth quarter announcement is known. The total return is 110% or 22% per annum. That's slightly below the last Update because GLAD has increased in price and now trades only 9% below its 52-week high and at an 11% premium to its last reported net book value per share.
---
April 17, 2023
Time For A Change
Following Gladstone Capital's (GLAD) announcement of its distributions for the calendar IIQ 2023, we have gone and materially increased the BDC's dividend outlook, both for 2023 and for the subsequent years. Like the analysts, we seem to have underestimated the BDC's earnings power in the wake of interest rates and its willingness to raise its payout. (You can read a longer discussion of this subject in the BDC Reporter, written on April 12, 2023).
Increased
Cutting to the chase, we have increased the 2023 payout to $0.9700 from $0.9000, and 2024-2027 to $1.0200. This effectively means we are expecting one more increase in the BDC's regular distribution. If we're right, that would be the fifth raise in a short period. That's out of character for a BDC that used to pride itself on maintaining a very stable monthly dividend - much appreciated by many retail investors - for years.
Valuation
💡
The result is that the Target Price - which is based on the assumption of a very high terminal dividend multiple of 16.0x - moves up to $16.32. With the current price at just $9.49, the Total Return in our model goes to 125% over 5 years or 25% per annum. The stock price will need to increase a whopping 72% to reach the Target Price. The projected 2023 yield is 10.2%.
Shocking
Long-time GLAD investors will recognize that a double-digit yield has been a rarity historically given the stock's popularity. Ironically, just as the BDC reaches new distribution heights and promises more, investors are pulling back. GLAD is priced (23%) below a 13-year high set about a year ago. Currently, GLAD is valued at 9.0x its FY 2023 projected earnings. That's above the BDC average but well below its own historic average by this metric. Still, GLAD remains one of only 9 BDCs currently trading above its net book value per share.
---
November 16, 2022
Once More
How time flies!  Gladstone Capital (GLAD) has just reported another quarter of its earnings. Also in October, the BDC increased its monthly distribution to $0.07, or $0.84 annually from the last quarter of the year. The latest analyst consensus for FY 2023 EPS is $0.94, up from the last time we wrote, as you can read below. Moreover - once again - management all but promised another increase in the monthly distribution shortly.
The optimism of GLAD is based both on the continuing and growing impact of higher rates AND a material increase in the size of the income-producing portfolio. We wouldn't be surprised to see EPS reach $1.0000, but the BDC's compensation calculations are labyrinthine, subject to all sorts of credits and debits that only a highly trained accountant could decipher.
For the moment, we're leaving our $0.9000 projection for 2023-2026 unchanged and adding 2027 to maintain a 5-year outlook. EPS may be higher in 2023, but GLAD may keep back some taxable income to subsidize future periods and/or to keep NAV Per Share up. Down the road - even as rates come off the boil - the higher leverage - and thus assets under management - the BDC has adopted will keep income up.
The biggest question mark hanging over GLAD - and everyone else - is whether credit losses will rear their ugly heads. If more than a handful of companies in the 50+ company portfolio fall by the wayside, all bets are off. Maybe optimistically our numbers do not include much of a provision for income lost forever to failed loans.
GLAD opened today at $10.50, exactly halfway between its 52-week low and high and at a 16% premium to net book value. The price to future earnings (going by the FY 2023 analyst consensus) is 11.1x. Thanks to its monthly distributions and payout stability over the years, GLAD is an investor favorite as those metrics suggest.
Valuation
💡
We continue to use a Terminal dividend multiple of 16.0x to come up with the Target Price. That's very high but in line with how popular GLAD has been. Even in the last 12 months, GLAD has traded at 15.8x its calendar 2022 payout. The Target Price remains at $14.40, a level not seen since 2008. In recent years, GLAD has not traded above $12.78, but we are projecting record earnings ahead. The 5-year Total Return comes to 80% or 16% per annum. That's substantially lower than the current BDC average projected total return, reflecting the already elevated opinion investors have of GLAD. At this price - and with a yield of 8% on the current dividend level - the BDC is no bargain. On the other hand, an 80% return is no slap in the belly with a wet fish and may appeal to investors who like the monthly distribution; the historic stability, and the access to the lower middle market.
---
September 8, 2022
Work To Do
First, a little bit of catch-up work. We failed to write an update when GLAD increased its regular monthly distribution to $0.0675 from $0.6500, increasing the annual payout from $0.7800 to $0.8100. That also increased the Target Price. All of that, though,  is old news because higher interest rates are likely to cause the annual payout to increase again...That's what was heavily hinted at by GLAD's management when discussing its calendar June 30 2022 results on its conference call, a subject covered by the BDC Reporter.  
Whereto ?
How high will GLAD go ? The latest analyst consensus for EPS in FY 2023, which begins October 1 of this year, is $0.91. That's quite a jump for the BDC which only racked up a Net Investment Income Per Share of $0.2025 in the most recent quarter, or $0.81.
Guidepost
GLAD's management, though, gave relatively clear cut guidance about how and why its earnings would increase:
We continue to be well positioned to benefit from the increase in short-term rates, with 93% of our investment portfolio subject to floating rates. And as of June 30, 71% of our debt was at fixed rates. Now that LIBOR has increased above the average LIBOR floor in the portfolio of 1.16%, we expect that for each 75 basis point increase above — in LIBOR above the level as of 6/30, which was 1.8%, we will increase our quarterly net interest margin by $0.5 million and NII per share by $0.01. ...We will continue to assess the outlook for portfolio growth and net interest income increases to sustain any future increases to the shareholder distributions.
Latest
This is all guesswork, but in a relatively narrow band and we're plumping for GLAD to increase the monthly distribution  - maybe in one or two moves - up to $0.075 per month, or $0.9000 per annum.
Sustainability
That earnings level might be sustainable long term as the BDC is under- leveraged. This should allow the portfolio size to increase in the years ahead to sustain the distribution even if rates do slump back a bit. Moreover, the BDC Reporter's recent Credit Review of GLAD was relatively optimistic that credit losses should remain contained and do little to erode earnings.
Better. Not Best
The result is higher income than we anticipated before in the years ahead, and a higher Target Price - now $14.40. That's far from a record stock price for the BDC, but would be above the post-Great Recession high of $12.78. However, GLAD's monthly dividend in recent years never exceeded $0.07 rather than the $0.75 we are projecting, so a higher stock price is reasonable enough.
Bottom Line
At time of writing GLAD trades at $10.0 - closer to its 52 week low than high - and a 10% premium to net book value per share. The projected 5 year gain is now 88%, or 17.6% per annum - above average by current BDC standards but not in the stratosphere. If you assume our projection for the new distribution level, the yield is 9.0%. However, half the potential return here comes from GLAD's stock price picking up - something that may be some time away in the current atmosphere.
---
February 21, 2022
Homework Done
Mid-sized BDC Gladstone Capital (GLAD) reported results back on February 2, 2022. Over at the BDC Reporter, we briefly reviewed what were excellent results, especially in NAV Per Share increase terms, where GLAD has the second best increase in this metric since the end of 2019. See the BDC NAV Change Table.  We've also read the BDC's conference call transcript; the 10-Q and analyzed credit performance.
Unmoved
After all that, we maintained our projection for the annual dividend for every year from 2022 to 2026 at $0.7800, unchanged from the 2021 level. Management has all these ways to take a little less in fees when results are weaker and take a little more - like in this most recent quarter - when all is going well. The result is a very stable bottom line and distribution level. Those dividends come out monthly and - due to their frequency and dependability - make GLAD a retail investor favorite. This despite the fact that stock price performance over the life of GLAD is underwhelming as this chart shows: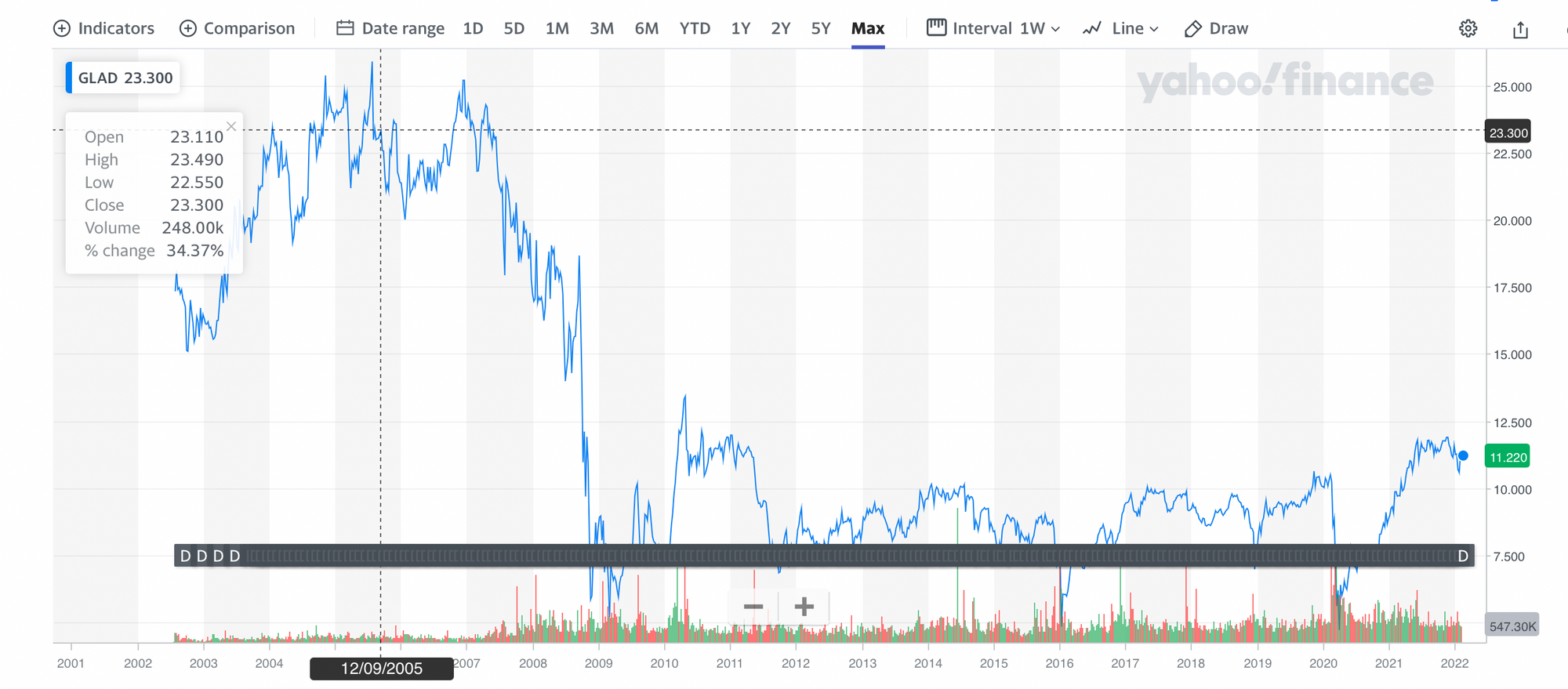 Popular
Of late, GLAD has been so popular that the stock price reached a 52 week high of $12.58 back on November 17, 2021. That's a 33% premium to the latest book value and 16.1x the BDC's $0.78 annual payout to shareholders.
Marked Up
All this to explain that we've increased the terminal multiple we use to value GLAD for its Target Price from 15.25x to 16.0x. There's every reason - especially given the stable outlook for the future - that we might see GLAD climb back towards that undeniably rich multiple. This brings the Target Price to $12.48, from $11.22 as we write this - an appreciation of just 11%, and still a smidge below the BDC's recent high point.
Not Exciting
Even with one of the highest price multiples of the fifth year projected distribution, GLAD does not offer more than a modest return over half a decade at time of writing: 46% or 9.2% per annum. That's slightly below average. By contrast, if you'd bought GLAD 5 years ago, the total return - according to Seeking Alpha - would be 88%. We doff our hat to the stability of the BDC's dividend - although there was a modest cut during the pandemic; and the multiple realized gains of late that have  bumped up NAV Per Share, but as an investment right now GLAD does not offer a compelling return.