BDC Market Snapshot: Week Ended September 9, 2022
No Shortage As Yet
After three weeks of losses, the major indices and the BDC sector headed in the opposite direction, as discussed in the BDC Reporter's weekly Common Stocks Market Recap. Of course, higher prices mean lower prospective returns. Nonetheless, there are still plenty of investment opportunities going by the Expected Return Table as of September 9, 2022.  We still count 9 BDCs offering a super-sized annual return over 5 years of 20% plus.
The BDCs involved include several venture-debt players - suddenly out of favor as a group. There is HTGC,  HRZN, newly minted TRIN and TPVG. There are 2 underperforming BDCs as well: FCRD and non-dividend paying PFX. The latter has a net book value per share of $57.84, a current price of $37.01 - halfway between its 52 week low and high price - and a Target Price of $46.99. It's all very speculative, but we take some comfort that CEO David Lorber continues to purchase shares for his own account. On the other hand, PFX is that very rare BDC that does not bother to hold a quarterly earnings conference call and whose way forward is shrouded in deliberate mystery by its small coterie of insiders. There is no obvious catalyst on the horizon and is best left to those who like a "flutter".  
In Transit
FCRD is another kettle of fish. At least a distribution is being paid. Sadly, the current management team has not been able to stop getting into credit trouble on a regular basis even as a determined effort is being made to re-position the BDC into far "safer" and more diversified investments - mostly first lien loans - than before. Our projection relies on FCRD maintaining its current dividend level which would seem unlikely -  if not for the coming benefit to EPS of higher rates.  In fact, in the IIIQ 2022, FCRD actually increased its quarterly payout to $0.11 from $0.10, outstripping its IIQ 2022 $0.10 EPS. We expect the advisor would not be taking such a step without confidence that future earnings can keep up.
Key Assumption
Another key part of the valuation is that FCRD should trade at 12.50x its annual distribution. In the last 12 months, the multiple has reached as high as 12.25x. At the moment, though, FCRD is priced at $3.29, or a multiple of only 7.5x. Our Target Price of $5.50 per share is a long way off, but would hardly be a record for a BDC that once traded for $17.0. Still, the BDC has rarely failed to disappoint for many years (the 5 year total return is -32% !), so this is a speculative choice as well.
Safer Bets ?
The more stolid options in this group of high potential gains are CGBD and CION. Both of these middle market focused BDCs are of a similar size and have both just increased their regular distributions. If you believe the analysts, both will be posting higher earnings in the next two quarters and in 2023. CGBD promises a 126% return over the next 5 years and CION an even better 148%...
One And Only
There's only one lower middle market focused BDC on our list: CSWC. The well run BDC - which just increased its own regular distribution and promises more of the same going forward (based on the increase in the analyst EPS consensus for FY 2023 and 2024) could return 115%. Helping to make CSWC such a bargain is that the stock price - currently $19.13 - is trading (33%) below its 52 week high and not far off its low.
Conclusion
As always, this remains a very difficult time to invest in BDC common stocks. The mood in the markets shift backwards and forward from week to week. Just look how much BDCZ - the UBS Exchange Traded Note which owns most BDC stocks and which serves as a price guide - has oscillated since April 30, 2022: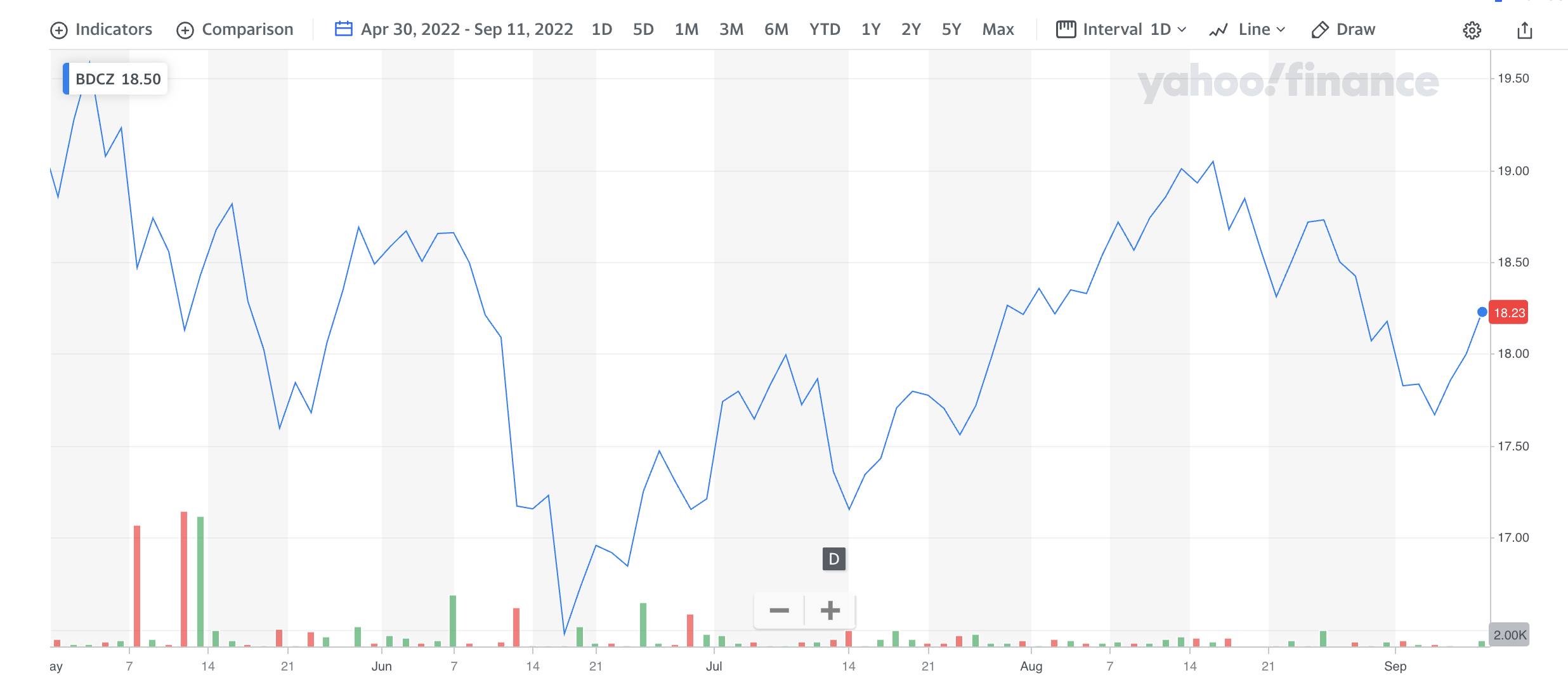 Moreover, the broad based increase in earnings - and distributions - coming from the rise in the Fed Funds rate has only just begun to happen. Moreover, just where this all goes to, and for how long, is hard to ascertain. Uncertainty, though, can be a boon for bold investors with a long term perspective and this is no exception.